Estimation of chlorophyll-a concentration from VIIRS ocean color data in Cambodia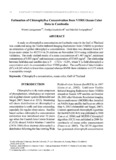 Associated URLs
www.tci-thaijo.org
EXTERNAL LINKS DISCLAIMER
This link is being provided as a convenience and for informational purposes only. SEAFDEC bears no responsibility for the accuracy, legality or content of the external site or for that of subsequent links. Contact the external site for answers to questions regarding its content.
If you come across any external links that don't work, we would be grateful if you could report them to the repository administrators.
Click Download to open/view the file.
Date
2016
Page views
155
Abstract
A study on chlorophyll-a concentration on Cambodia water in the Gulf of Thailand was conducted using the Visible Infrared Imaging Radiometer Suite (VIIRS) to produce an estimation of global chlorophyll-a concentration. Field data was obtained from R/V Koyo-maru cruise No 49/2514 in 26 stations on November 2014 using calibration and validation. The study yielded results of a mean concentration of 1.467 mg/m3, minimum concentration of 0.503 mg/m3 and maximum concentration of 55.663 mg/m3. The relationship between field data and satellite data is Y = 1.721x + 0.291, where Y is field chlorophyll-a concentration and x is concentration from VIIRS product. The coefficient of determination (R2) is 0.245 which is lower than expected whereas RMSE from validation is 0.275 which is acceptable enough.
Suggested Citation
Laongmanee, W., Luadnakrob, P., & Arnupapboon, S.
(2016).
Estimation of chlorophyll-a concentration from VIIRS ocean color data in Cambodia.
Kasetsart University Fisheries Research Bulletin, 40(3), 74-77.
Subject